EDIT MAIN
2020 - 2021 Routes
These routes are as of August 18th, 2020.
PLEASE NOTE! Several routes and/or bus numbers have changed this year! Please pay close attention to written route descriptions.
The following are the a.m. bus routes for the 2020-2021 school year. Students need to be at the bus stop 5 minutes before the bus arrival time. Any alternate bus arrangements (babysitters, daycare, etc.) need to be made with building secretaries.
Bus assignments are per HOME addresses only until we are notified of changes. The routes and stops are subject to change to accommodate our students. Thank you for your patience.
---
HS Routes: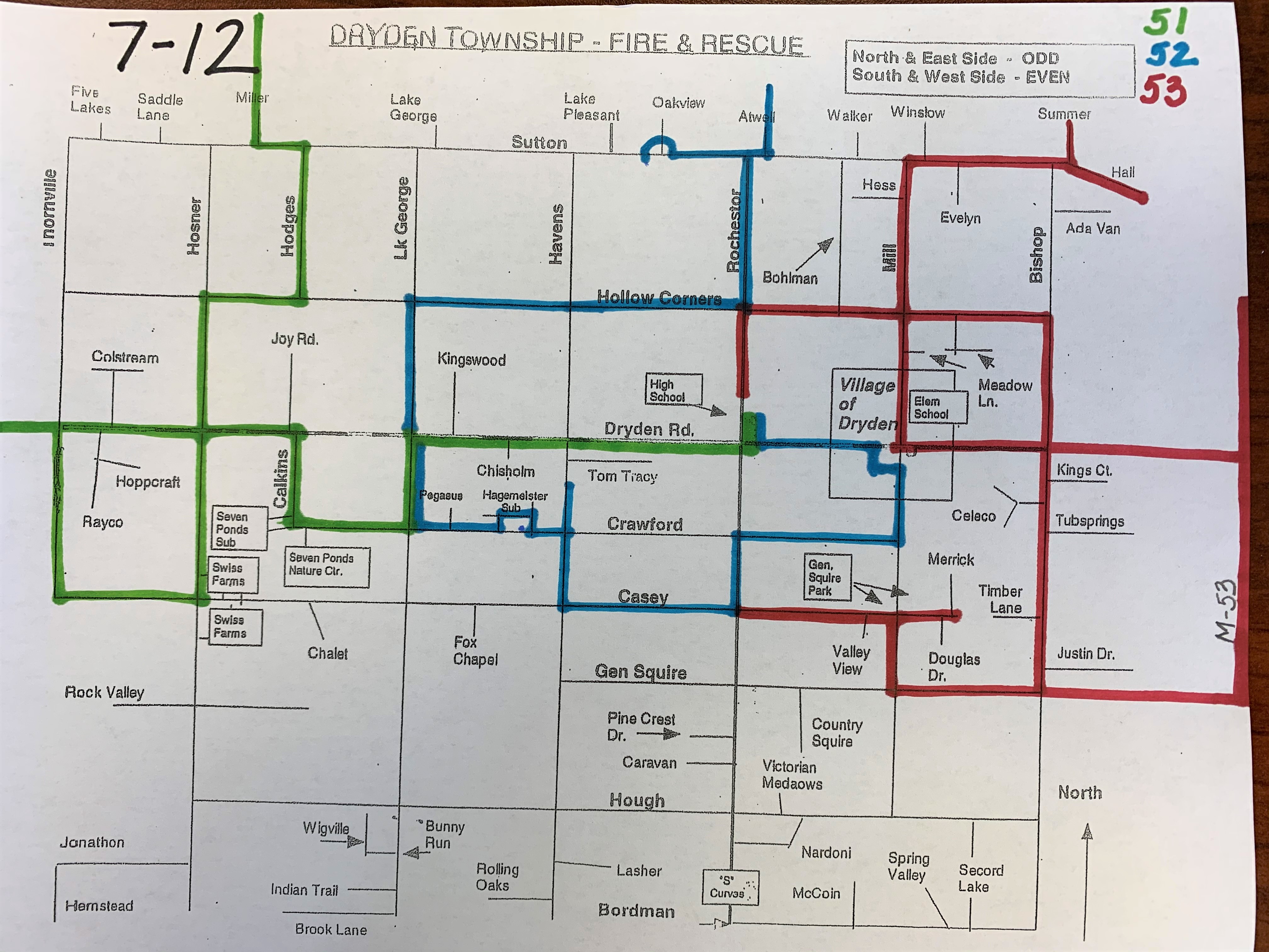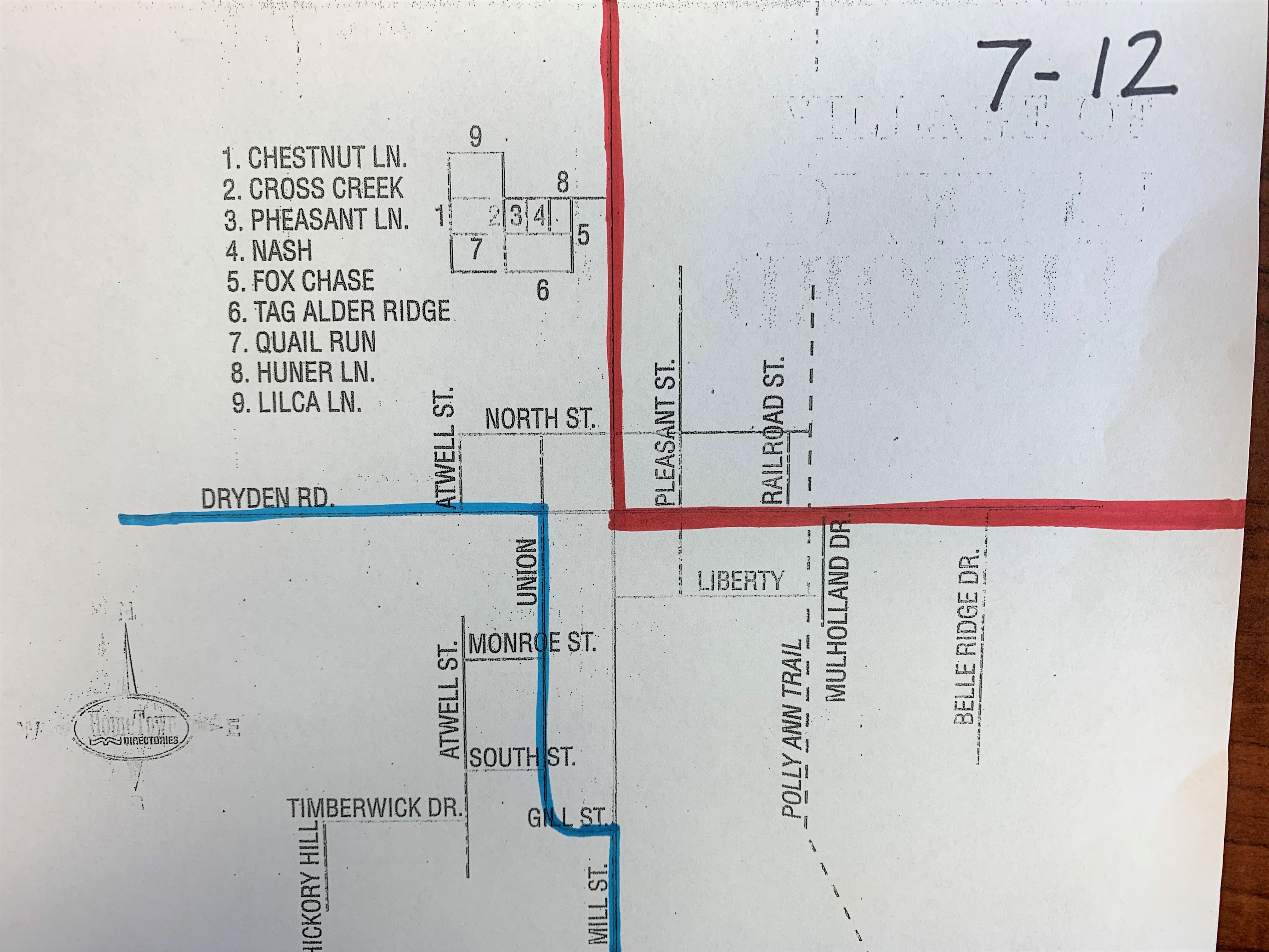 Ms. Franks 51 – HS Run
Hodges - S
Hollow Corners Rd - W 3580 - 6:20
Hosner Rd - S
Dryden Rd - W to: 2216
White horse - 6:25
Oak St. -S (to light)
Dryden - W to:Metamora Market parking lot - 6:35
Dryden - E/Thornville - S
Casey - E to: 3420
Hosner - N
Dryden - E to: 3889
Just before 3722 @Joy Rd - 6:45
Calkins – S to: 6:50
@ Main St -
Crawford – E to: 3852 - 6:52
Lake George Rd - N
Dryden Rd – E to: 4676 - 6:55
Rochester Rd – N to: Dryden High School
Arrive @ 7:15 am / School starts @ 7:25 am
Mrs. Rahn 52 - HS Run
Newark Rd – W to: 5483 - 6:10
Atwell Rd – S to: 2250 - 6:16
Sutton - W to: 5074
@Oakview T/A
Sutton – E/Rochester - S
Hollow Corners - W to: 4980
4817
4765
4125 - 6:25
Lake George - S across Dryden
Crawford - E to: 4281 - 6:30
@ Pegasus Dr
Willow Ln –N
Pinegrove Ln - E 4438
Crawford - E
Havens - S @ corner -
Havens - N to: 4326 T/A 6:40
Havens - S/Casey - E to: 4525
Rochester - N/Crawford - EMill - N
(In Town)
Gill – W/Union – N to:
***Stop @ South St
***Stop @ Monroe
***Stop @ St. John Episcopal Church parking lot - 6:47
***Stop @ Dryden Rd
Dryden Rd – W to: 5412 - 6:50
Arrive @ 7:15 am / School starts @ 7:25 am
Ms. Beckman 53 - HS Run
Newark Rd - W
Summers- S/Hall Rd -S to: 6126 - 6:05
Sutton - W
Mill - S to: @ Hess
Hollow Cors – E to: 5838 - 6:12
5988 6:13
Bishop Road - S to: 3743 - 6:13
3775
Dryden – E/M-53 - N
Webster - W/Webster - E
M-53 –S to: 3234 6:18
TO ALMONT
VanDyke - S **Stop @ Trailer Park - 6:20
@ Light St. Clair - E
South Bristol - S**around back parking lot for STOP - 6:25
St. Clair - W /General Squire
General Squire - W to: 5739
5358 - 6:32
Mill - N
Casey - E to: @ Douglas
@ Merrick T/A - 6:40
Casey- W/Mill – S/General Squire - E
Bishop Rd – N to: 4764
4626
4434 - 6:45
4152 - 6:46
Dryden Rd - W to: 5935 - 6:49
@ Belle Ridge Rd - 6:50
Mill – N to:
@ North St – 6:52
@ Elem. School @ South doors –
@ Trailer Park -
Mill-N to: 3785
Hollow Corners - W to: 5464 - 6:52
Rochester Rd – S to: 3697 - 6:55
Arrive @ 7:15 am / School starts @ 7:25 am
---
Elementary Routes: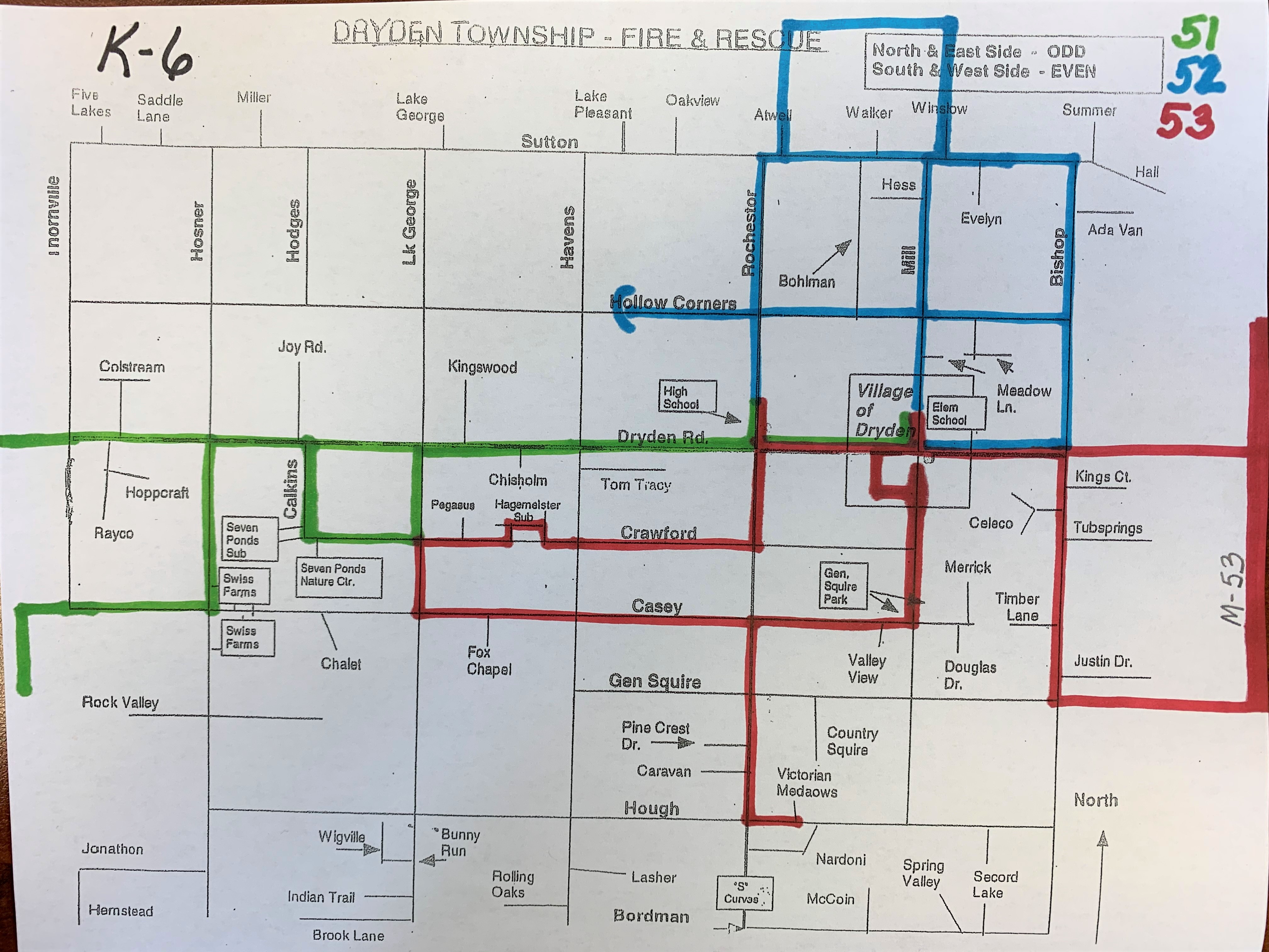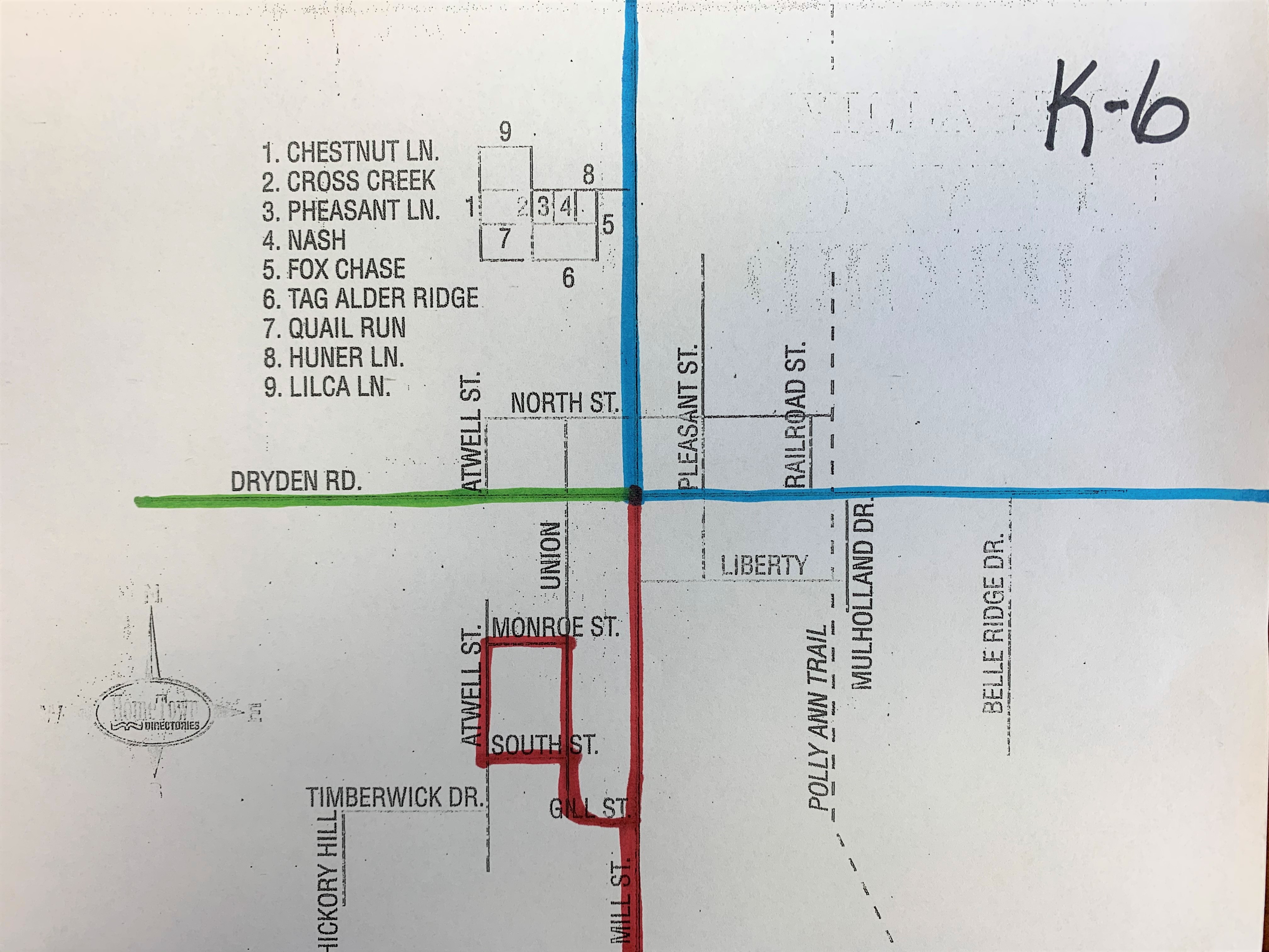 Ms. Franks 51 – Elementary Run
Rochester - S
Dryden - W to: @ School St
3049
@White Horse go into parking lot – to North side - 7:21
Continue on Dryden W to:
***Stops @ Metamora Market parking lot - 7:30
Barber - S
Brocker - E to: 2652 - 7:40
Brocker - N
Casey - E to: 3420 - 7:47
Hosner Rd – N/Dryden Rd - E
Calkins Rd – S to: 4275
**Calkins becomes Crawford after curves
@corner of Calkins & North Dr. - 7:52
Crawford - E 3582 - 7:54
Lk George - N to: 4177 - 7:55
Dryden - E @ Property Pointe Dr. 4300
@Chisholm Trail Aden, Miguel & Christian Luciano
4570 - 8:00
Rochester Rd - N to: 3957 T/A @ HS - 8:03
Dryden Rd – E/Atwell - S
Mill St - N to school
Arrive @ 8:20 am / School starts @ 8:35 am
Mrs. Rahn 52 – Elementary Run
Newark Rd – W
Atwell Rd – S to: 2250 - 7:23
2621 7:25
Sutton Rd - W to: 4970 T/A @ Oakview
Rochester Rd – S
Hollow Cors - W to: 4980
4817
4765 T/A - 7:33
Hollow Cors - E to: 5006
Mill – N to: 3421 - 7:40
@ Troika Trail T/A - 7:41
Sutton Rd – W to: 5216 T/A - 7:45
@ Evelyn Lane
Sutton Rd - E to: 5835
5934
Bishop – S
Dryden - E to: 7715 T/A - 8:00
Dryden -W /Bishop - N
Hollow Cors – W to: 5972 - 8:07
5838 8:08
@ Meadow Ln 5701 - 8:09
Mill Rd – S to:
@ trailer park - 8:10
Mill St - N to school
Arrive @ 8:20 am / School starts @ 8:35 am
Ms. Beckman53 - Elementary Run
Dryden- E / M53 - S TO ALMONT
@ Light St. Clair – E/Bristol - S around back SE of parking lot for GROUP STOP - 7:28
St.Clair -W turns into General Squire -W
Bishop – N to: 4190 - 7:35
4173
Dryden – W to:5935 - 7:37
@ Belle Ridge Dr - 7:38
Rochester - S to: 4254 - 7:43
Crawford - W(cross over Havens)
Rose Lane - N
@Rose lane & Pinegrove - 7:46
Pinegrove - W to:
@ stop sign-
Willow Lane - S
Crawford- W to:
@ Pegasus Dr - 7:47
Lake George- S to:4281 - 7:48
Casey - E to:4865 - 7:50
4525
Rochester - S to:
@ Hawthorn Hills - 7:52
Hough - E to:
@ Victorian Meadows T/A
Hough - W
Rochester - N to:5227 - 7:54
General Squire -E /Mill N-
Casey E- to:
@ Douglas
@ Merrick T/A - 8:04
Mill - N to: 4229
4194
4182
Gill–W /Union – N to: 4164
South St - W to:
Atwell - N to: 4103
Monroe - E/Union - S to: 4088 - 8:05
Gill St - E/Mill Rd - N to: 4061
Mill- N to school
Arrive @ 8:20 am / School starts @ 8:35 am